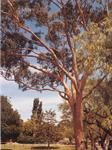 Arborist
Trees are an integral part of the plants that grow on earth. Whether growing naturally, or planted by man, trees benefit from regular maintenance. The Arborist (or Tree Surgeon) is responsible for maintenance pruning of branches or larger limbs, carrying out major "surgery" and ultimately safely felling trees when necessary.
The work is very varied. An Arborist needs to be physically fit and like working outdoors. Climbing day in and day out for many hours a day, with a chainsaw hanging from your harness, is demanding and requires physical and mental stamina, although tree climbing is based on technique rather than strength. An Arborist must also be happy working at heights! Practicing Arborists tend to be young - 35 is regarded as old!
Arborists make sure that trees are safe, healthy and well-managed. A basic starting level for an Arborist can be as a Groundsman; with training progression is to a climbing Arborist, who prunes and fells trees, uses a chainsaw, and a chipper to shred up waste.
Jobs can include pruning out dead or damaged branches; maintenance work such as the removal of basal growth or water shoots on street trees; clear or sectional felling of trees; crown thinning; crown lifting.
The most successful Arborists are highly trained professionals who have strong science skills as well as knowledge of tree work. They will be technically competent, understand the science, technology research and development of the tree care industry and be able to work safely as a member of a team. There are qualifications for virtually all aspects of arboriculture and you will need a great many of these before anyone will employ you.
As an Arborist you can work for yourself or as part of a team. To set up on your own, you will need first to have a minimum of three years experience working with someone else. It is often estimated that it takes at least two years of climbing in a commercial environment to become strong and fit enough to be a good Arborist. It also takes time to slowly build up confidence to take on larger and larger trees.
Typical Jobs or Career Paths
Entry to the profession is usually as a Groundsman, or Arboricultural Assistant frequently working for a commercial tree care company, or local government authority. At this level work is often also available through arboreta or the forestry sector.
Both academic and vocational training is available and qualifications, certificates of competence and licences are essential for progression. A standard progression might follow a pattern such as Groundsman; Arborist Craftsperson; Supervisor Arborist; Arboriculture Manager. Arboriculture Manager is the top end of the scale and it is likely to take at least 10 years to achieve this level.
Once this level is achieved, specialist or consultancy work is an option. Alternatively Arboriculture Managers can work in the utility sector or community woodlands.
It is important to plan your career development with the future in mind. As you get older you will want to progress from the more physically demanding roles to the work of management and consultancy.
Career options include:
There are a wide range of roles as Arborist, depending on your competency and qualification level. Some examples are given below, but the list is not exclusive:
· Tree Care Company Owner or Manager
· Climber
· Aerial Lift Operator
· Groundworker
· Municipal Arborist
· Crew Leader
· Utility Forestry Manager
· Arboriculture Consultant
· Urban Forester
· Instructor
· Extension Agent
Who Employs a Graduate?
Employers may include –
· Commercial Residential Sector
· Municipal Sector
· Utility Sector
· Colleges
· Government Agencies
· Arboreta/Parks
Positions are usually available full time and on a permanent basis.
Remuneration and Advancement Opportunities
Arboriculture is not the easiest way to earn money. At low levels of skill and training you will earn around the national wage. Even as a fully trained and experienced Manager salaries are not high. As a Consultant, you will earn the most, but this has to be balanced against professional indemnity and other insurances, the rates for which are very high.
Professional Bodies
Membership of Professional bodies is useful to encourage networking and that you are kept up to date with current trends. Some will require an annual fee to join, whilst others will require evidence of your educational attainment and experience. Some will offer reduced fees for students. In arboriculture, membership of such bodies may enable you to get preferential insurance rates. It may also help career development at higher levels. Professional accreditation and Approved Contractor status may be awarded by some professional bodies in Arboriculture. Some Professional bodies include:
· International Society of Arboriculture www.isa-arbor.com
· Arboricultural Association www.trees.org.uk
· Institute of Chartered Foresters www.charteredforesters.org
Career Risks
There are risks associated with every career, but obviously climbing trees with a chainsaw is a significantly dangerous occupation. Arboriculture may be regarded as one of the most, if not the most dangerous occupation. Safety precautions, risk assessments, protective clothing, comprehensive training etc are essential to minimise risk, but accidents do and can happen. Arboriculture is a very physically demanding job, which is both dangerous and challenging. It involves being outdoors in all weathers.
All contractors must have, as a minimum, professional indemnity and public liability insurance. Other insurances, licences etc may be required depending on the work you do and where you do it.
Recommended Courses
Both academic training and practical experience is essential for Arborists. ACS DE offers two short courses and a certificate in Arboriculture but to obtain full competency and licenses, students will require additional practical training and chainsaw certification which cannot be provided by distance education. An Applied Management Certificate with an Arboriculture specialism is also offered for non-practical supervisors.
Certificate in Arboriculture http://www.acsedu.co.uk/courses/product.aspx?id=556
This certificate focuses on the culture and care of trees, providing a sound foundation for any working or hoping to work with tree establishment or maintenance. Unlike many other courses in arboriculture, this course also provides a broad foundation across all aspects of horticulture.
To obtain this certificate you must complete the following six modules:
Part 1: Horticulture I; Arboriculture I; Trees for Rehabilitation
Part 2: Arboriculture II; Plant Selection and Establishment; Plant Protection
Arboriculture I http://www.acsedu.co.uk/courses/product.aspx?id=93
This course develops your skills and understanding in diagnosis and treatment of tree disorders, whether pests, diseases, nutritional or water problems, or something else. You learn about the standard tree surgery practices, to prune and train both young and established trees, and safety measures to follow.
The course is in eight lessons comprising Introduction to Arboriculture; Tree Biology; Soils in Relation to Trees; Diagnosing Tree Problems; Tree Surgery; Pruning of Trees; Arboricultural Equipment; Workplace Health and Safety.
Arboriculture II http://www.acsedu.co.uk/courses/product.aspx?id=94
This course develops your ability to manage trees beyond Arboriculture I, in order to minimize potential long term tree problems. Learn about better tree selection, strengthening and improving health of existing trees, and techniques used to better remove trees and stumps that must be removed.
The course is in seven lessons comprising Planting Techniques; Controlling Plant Problems; Strengthening Weak Trees; Controlling Damage Caused by Plants; Tree Felling and Stump Removal; Tolerant Plant Species; Establishing a Tree Plantation.
This 900 hour course is for managers and supervisors of workers in arboriculture. There are seven modules plus a 200 hour workplace project in this course. These are made up of the four compulsory core units common to all streams of this Advanced Certificate, and three specialist units of study relating to the selection and culture of plants, with an emphasis on trees.
The compulsory core units are Office Practices; Business Operations; Management; Marketing. The three elective stream units are Arboriculture I; Arboriculture II; Trees for Rehabilitation. In addition 200 hour Workplace Project must be carried out for successful completion of the course. The project specifically aims to provide the student with the opportunity to apply and integrate skills and knowledge developed through various areas of formal study.